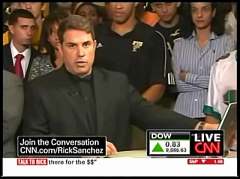 Writing at The Politico, Michael Calderone reports that "only a few" of CNN's 200 Washington bureau staffers would say they "respect" 3pm to 5pm ET anchor Rick Sanchez as a journalist, compared to "almost everyone" who acknowledged respect for longtime CNN anchor Wolf Blitzer. [Click here for a run-down of NewsBusters' coverage of Sanchez over the years.]
"While that response could be taken as a slight to Sanchez," Calderone writes, "some staffers say it's more a reflection of the general sense of anxiety as CNN tries to find a winning formula for an afternoon/early evening lineup that's being soundly beaten by Fox News and prime-time programming that last year for the first time also finished behind MSNBC."
Also according to Calderone: "CNN staffers didn't realize that Klein was sitting in the back of the room while griping about resources for The Situation Room," until Klein contrasted the high costs of CNN's late afternoon hard news block with the "much higher ratings" FNC's Glenn Beck pulls "without the personnel and resources needed for the CNN show."
Key excerpts from the story posted this afternoon at Politico:

When CNN Worldwide president Jim Walton made his annual appearance before Washington bureau staffers this month, he got an earful over the network's decision to shave an hour off "The Situation Room" with Wolf Blitzer in favor of rising star Rick Sanchez and "Rick's List," his new two-hour show.

Blitzer has a loyal following in the Washington bureau, which, according to one CNN staffer, "tends to be more traditional in its approach to news." Sanchez, who incorporates Twitter heavily into the show, is viewed by some in Washington as merging entertainment more with the news content than is customary at the network, and at one point Howie Lutt, senior director for "The Situation Room," stood up and asked the roughly 200 staffers assembled in the bureau to raise their hands if they respect him or Blitzer as a journalist, according to network sources.

Almost everyone assembled raised their hand for Blitzer; only a few showed similar support for Sanchez.

While that response could be taken as a slight to Sanchez, some staffers say it's more a reflection of the general sense of anxiety as CNN tries to find a winning formula for an afternoon/early evening lineup that's being soundly beaten by Fox News and prime-time programming that last year for the first time also finished behind MSNBC.

...

[W]hen there isn't an election or international incident, CNN has lagged behind its competitors in the evenings. And despite a growing perception in the industry that cable news viewers are already aware of the day's news and want their positions, whether left or right, reinforced by a partisan host at night, CNN president Jon Klein has tried to go against the grain in programming.

[Longtime CNN anchor Lou] Dobbs's departure after years of controversy over his strident views on illegal immigration, and willingness to keep the bogus "birther" controversy going, opened up a spot for a more traditional journalist like King. But in extending Sanchez's airtime, CNN is borrowing a page from Fox, where Glenn Beck's cable news performance isn't much different from his morning radio show, except, of course, for his chalkboard used to diagram all sorts of theories in his head. Indeed, [incoming 7pm anchor John] King said Sanchez's format is "like having a radio show on television."

...

Since CNN announced the Sanchez move, internal scuttlebutt has revolved around Blitzer being somewhat sidelined by management. It's true that Blitzer — who anchored for 17 hours weekly through most of 2008, in addition to election night specials — will drop down to 11 hours each week on air next month Still, that's 11 hours on air — more than any other CNN anchor outside of the morning show. Not to mention the fact that Blitzer is already slated to be lead political anchor through 2012.

...

During the Walton meeting, CNN staffers didn't realize that Klein was sitting in the back of the room while griping about resources for "The Situation Room." That is until Klein made the point that Beck pulls much higher ratings without the personnel and resources needed for the CNN show, which relies upon multiple cameras, live feeds and more complicated news packages. Klein then came back to the bureau the following week for a meeting just with "Situation Room" staffers.

King, who was on hand for bureau-wide meeting, said he found it "refreshing" to see his colleagues not being "afraid to ask tough questions of the management," along with Walton and Klein willing to frankly address such issues.