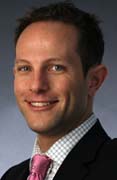 Ken Vogel, the Left Whisperer
The
Politico's
Kenneth P. Vogel was today a poor excuse for a journalist.  He was, however, an excellent excuse for a public relations flack for President Barack Obama and his Administration.
Recall if you will the brouhaha that arose after C-Span Chief Executive Officer Brian Lamb publicly released a letter to House Speaker Nancy Pelosi, Senate Majority Leader Harry Reid and Republican Leaders Mitch McConnell and John Boehner asking that the electronic media be allowed access to the health care legislation conference meetings. 
(Currently, they are being conducted behind closed doors with only Democrats allowed to participate - no Republicans, no media.) 
This became a bit of a problem for President Obama as well.  Here we have eight times during the campaign where he pledged on camera to have all health care meetings televised - on C-Span, by name.  Yet he has thus far refused to demand greater openness of or for the health care legislative process. 
In fact, his Press Secretary, Robert Gibbs, at one point absurdly asserted that the Pelosi and Reid's health care work has "met the standard" Obama established on the campaign trail.  This despite the fact that, as Lamb pointed out, only one hour of what Lamb termed "show horse" health care process has thus far made it to C-Span's airwaves.
This was just the latest instance where Obama - who ran on establishing a new threshold, indeed a new era of transparency - has ended up being far less translucent than self-advertised.
Well today Vogel and Politico came riding to the rescue.
In a ridiculous piece entitled "White House gets 'A' for openness," four inordinately liberal organizations - Common Cause, Democracy 21, the League of Women Voters and U.S. PIRG - are trumpeted as having given the Obama Administration the aforementioned stellar mark for transparency.
Vogel doesn't identify them as four inordinately liberal organizations, mind you, but as "nonprofit groups." 
There are no conservative groups or individuals, identified or not, given any voice in the article.  There are "representatives of other groups advocating for transparency" - who are also inordinately liberal - who "said the 'A' grade for open government was either inflated or premature, singling out the C-SPAN pledge, the administration's use of the state's secrets provision and the incomplete nature of its transparency initiatives."
Not exactly the blistering counterpoint we would hope to see.
Not surprisingly, the Obama Administration is thrilled - with the grade, and one would have to assume Politico's reporting of it.
White House communications director Dan Pfeiffer, in a conference call highlighting the report, said the administration was "very pleased" with the report card.
"Reforming the way Washington works, reducing the influence of special interests, making government more transparent were at the heart of the president's campaign," said Pfeiffer. "It was really what drove him to get into politics to begin with, and it was something he talked about on the trail every day. As soon as he was elected and came into office, we undertook a historic effort to change the way the White House works," he said, citing an initiative Obama signed on his first full day in office barring gifts from lobbyists and restricting them from working in the administration.
Later, Vogel quotes a fifth inordinately liberal organization - Citizens for Responsibility and Ethics in Washington (CREW) - praising Obama without properly IDing them. To Vogel, they are just another "outside watchdog group."
One outside watchdog group praised the administration for surpassing the Bush administration in matters related to transparency but noted that an initiative that the White House has highlighted, which calls on the agencies to make more records available electronically, has yet to produce results.
"They've done a really good job on transparency, but some of the jury's out," said Melanie Sloan, executive director of Citizens for Responsibility and Ethics in Washington, a group founded by Eisen that focuses on transparency and accountability and negotiated for the release of the visitor logs.
There is a sixth unidentified inordinately liberal organization - Campaign Legal Center (CLC) - who gives Obama an excused incomplete.
"It's just the first year, and they're dealing with a few other things - including the financial meltdown, two wars and health care, not to mention climate change," (CLC Policy Director Meredith) McGehee said.
This pathetic piece is a wondrous public relations service Vogel and Politico have provided Obama in the midst of what has been for his Administration a terrible time.  One wonders if it will be enough to overcome the President's serially recorded self-inflicted wounds.
Please support NewsBusters today! (a 501c3 non-profit production of the Media Research Center)
DONATE
---