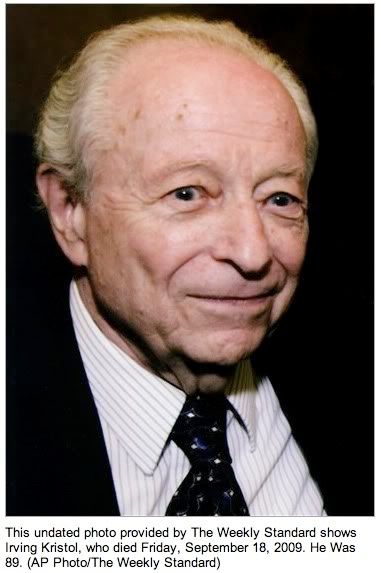 RIP, Irving Kristol. Condolences to his family and his family and friends, along with intense gratitude from those who believe in individual freedom and liberty.
The Wall Street Journal has a compendium of key passages from Kristol's essays during his time there. The Weekly Standard's blog has links to several of his later columns. 
The Associated Press's Hillel Italie wanted to make sure that everyone reading the wire service's late Friday Kristol obituary (saved here in full for fair use and discussion purposes) came away knowing that "political writer" Kristol was a neoconservative.
It's almost as if AP has a once-a-month minimum on employing the word. Apparently hampered in using it since the election of Dear Leader last November, Kristol's passage gave Italie the opportunity to clean out the closet. Forms of the word "neoconservative" appear a remarkable 12 times in the obit's roughly 1,400 words, accompanied by eight appearances of forms of "conservative." Geez, we get it already, Hillel.
By contrast, AP's David Espo referred to the late Massachusetts senator Ted Kennedy as "liberal" twice in roughly 2,000 words in his late-August Kennedy obituary (saved here).
Here are the first five paragraphs from Italie's report, followed by additional paragraphs with "neocon" labeling: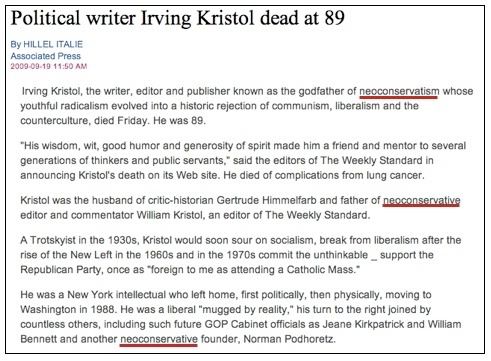 Additional paragraphs with labeling: 
.... Former Vice President Dick Cheney was a longtime admirer and former President George W. Bush, whose administration was heavily populated by neoconservatives, awarded Kristol a Presidential Medal of Freedom in 2002, praising him as "a wide-ranging thinker whose writings have helped transform America's political landscape."

Kristol himself would regard neo-conservatism as a job well done, a "generational phenomenon" that was "pretty much absorbed into a larger, more comprehensive conservatism." But the Iraq War and the poor economy badly damaged the right's unity and credibility over the past few years.

.... Unlike such earlier advocates of the right as Sen. Barry Goldwater and William F. Buckley, whose National Review journal Irving Kristol found "insufficiently analytical and 'intellectual,'" most neoconservatives were not lifelong Republicans.

Ironically, "neoconservative" was not coined by a neoconservative, but is credited to socialist author-activist Michael Harrington, who used the term in a 1973 essay about Kristol and other former liberals.

Active in publishing for more than half a century, Kristol wrote essays and reviews for The New Leader and Commentary; released several books, including "Neo-Conservatism: The Autobiography of An Idea," and co-founded a seminal neoconservative journal, The Public Interest.

.... His reach kept expanding. In the mid-1970s, he acquired a powerful new champion: Cheney, then chief of staff under President Ford and an enthusiastic reader of Kristol's work. Ronald Reagan was elected president in 1980 and countless neoconservatives would become government and judicial leaders in the following decades.

"So I deem the neo-conservative enterprise to have been a success, to have brought elements that were needed to enliven American conservatism and help reshape American politics," Kristol wrote in 1995.
Also, Italie referred to Kristol twice as a former radical. Espo, in his Kennedy obituary, never used the word.
I'll leave it to others to discuss Italie's other not-so-subtle digs.