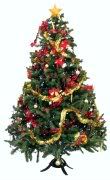 With an impeccable sense of poor timing due to a snowstorm in Las Vegas and unusually cold weather throughout the nation, North Carolina Congressman Heath Shuler (D-Of Course) is warning that global warming could harm the Christmas tree industry in his state. Key word is "could" since there is no evidence that any Christmas trees in that state have suffered from a global warming that hasn't even been proven to exist. Here is the Associated Press story of Shuler sounding the alarm for something that could happen (emphasis mine):
North Carolina Rep. Heath Shuler and forestry observers are warning that climate change could alter the state's Christmas trees.

Shuler and others plan to hold a press conference Thursday to discuss the impact of climate change.

North Carolina's large growth of Fraser firs make the state a leader in Christmas tree production.

This year, one of the state's Fraser firs is featured in the White House. But the trees rely on the cool temperatures in the southern Appalachians.

Officials say global warming could make it difficult for Fraser firs to continue growing in the state.

The Christmas tree industry accounts for over $100 million annually in western North Carolina.
Again that  very covenient word "could." And will some intrepid reporter at the press conference today ask Shuler exactly what evidence he has that global warming (in the midst of record low temperatures) is harming North Carolina Fraser firs?
Since today's temperatures in the Asheville area are expected to drop to the low 50s, Shuler and the tree growers will need to bundle up when they meet to discuss the "danger" of global warming that "could" happen.  John Boyle of the Asheville Citizen dutifully reports on today's press conference without the slightest hint of skepticism over this "emergency":
Politicians, tree farmers, and agriculture experts will host a press conference Thursday afternoon to call on Congress to deal with climate change in January before it adversely affect Christmas tree growers and other farmers even more.

Among those scheduled to attend are: U.S. Rep. Heath Shuler, D-Waynesville; Dale Hawkins, owner Sandy Hollar Farm; George Briggs, executive director of the N.C. Arboretum; Dee Eggers, associate professor of environmental studies at UNC-Asheville, N.C. State Sen. Joe Sam Queen and N.C. State Sen. John Snow.

The event will take place at 2 p.m. Thursday at the Asheville Farmers Market on Brevard Road at truck sheds 4 and 5.

North Carolina is the second largest Christmas tree producing state in the nation, growing nearly 20 percent of all live Christmas Trees in the U.S. The Christmas tree industry accounts for over $100 million annually in western North Carolina.

Of the trees grown, 95 percent are Fraser firs, which thrive in higher elevations with good drainage and cooler temperaturesj. These conditions also allow the trees to keep their needles through the Christmas season.

A North Carolina Fraser fir has been selected more than 10 times as the White House Christmas tree, including this year.

Some studies have shown that continued global warming will adversely affect the optimum climate conditions in North Carolina for Fraser firs. A rise in average global temperatures would force the Fraser Fir's natural climate northward and out of North Carolina. Rising temperatures also increase pest control problems and disease longevity.

The event is sponsored by the Pew Charitable Trusts/Pew Environmental Group.
Yeah, yeah, I know Congressman Shuler needs to show concern for the Christmas tree industry industry in his district but wouldn't it be cheaper for him to show that he cares by just publicly hugging a Fraser fir than wasting money by having Congress "deal with climate change" (the new term replacing "global warming") which has existed since the beginning of the world?  With Shuler's desire to buy into questionable science he might want to consider this report from Ohio State University that Christmas trees themselves could be causing global warming:
The increasing number of pine plantations in the southern United States could contribute to a rise in carbon dioxide levels in the atmosphere, a new study reports.

This is important because carbon dioxide is a key greenhouse gas, one that is linked to global warming.

Landowners in the South are turning stands of hardwood and natural pine trees into pine plantations because pine is a more lucrative source of lumber.

But pine plantations don't retain carbon as well as hardwood or natural pine forests, said Brent Sohngen, a study co-author and an associate professor of agricultural, environmental and development economics at Ohio State University.
So whose junk science do you want to believe, Congressman Shuler? According to Mr. Sohngen of OSU, you need to encourage your constituents to cut down their Christmas trees in order to prevent global warming. 
Meanwhile your humble correspondent is quite excited by the results of yesterday's Florida lottery. He could have won if only four of the six numbers on his ticket had been different.