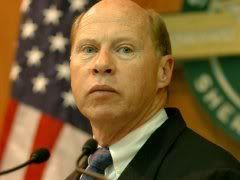 This has been happening so much in the past few years that it is reaching the point of redundancy to report on it. A politician is caught up in a major scandal and/or corruption. The media dutifully reports on it but leaves out one key factor. The political party of the fallen politician. And can you guess which political party is ALWAYS missing from these reports whenever such an affliliation is conveniently purged from the news stories? That is your Blue Book exam question, boys and girls. If you had answered "Democrat" you would have been absolutely correct. Such was the case today when Fort Lauderdale Sun-Sentinel reporter Paula McMahon conveniently neglected to mention anywhere in her news story the political party of disgraced Broward County, Florida Sheriff Ken Jenne who pled guilty to federal corruption charges involving tens of thousands of dollars he allegedly received from sheriff's office contractors and employees:
Former Broward County Sheriff Ken Jenne left federal court on Wednesday barred from voting or holding public office, unable to own a gun and required to submit to random urine tests.

It was a humiliating end to a 35-year career in public service that made Jenne the county's top law enforcement official and a political powerhouse.

Jenne pleaded guilty on Wednesday and could be in federal prison before Thanksgiving: His sentencing is scheduled for Nov. 16 before U.S. District Judge William P. Dimitrouleas. He is free on $100,000 bond and needs permission to travel beyond Key West and Fort Pierce.
Ms McMahon continues to lay out more details about this sordid corruption scandal involving former Sheriff Jenne but the "D" word remains missing even though she described Jenne as a "political powerhouse." As is often the case, the political affiliation of a county sheriff is not nearly as important as it would be to most other elected officials. In the case of Jenne, however, politics were at the very center of his professional life since he was a career politician. In 1978 Jenne was elected to the Florida Senate where he was to remain for the next 18 years, eventually rising to the position of Senate Democratic Leader. In 1998, Jenne was appointed as Broward County Sheriff by Florida Governor Lawton Chiles to succeed the previous sheriff who had passed away. The sheriff's office is generally acknowledged to be the most important political position in Broward County and career politician Jenne was certainly not shy in playing politics which is why neglecting to mention his Democrat  affiliation in McMahon's story is so noticeable by its absence.  
Okay, boys and girls. One final question for your Blue Book exam. If former Broward County Sheriff Ken Jenne had been a Republican, do you think this fact would have been mentioned in Paula McMahon's Sun-Sentinel story? I won't give you the answer now but you will earn bonus points in correctly guessing whether his political affiliation as a Republican would have been mentioned in the first or second half of the news story. Thank you, class. And tomorrow's lesson will be on how the term "Culture of Corruption" is applied to only one of the political parties. 
UPDATE: The editorial board of the Sun-Sentinel is now actually expressing sadness in The Slant over the fact that Ken Jenne is no longer Sheriff under the entry of Another by-product from Ken Jenne's fall:
Fallout from the Ken Jenne debacle will hurt one unexpected group of Floridans -- abused and neglected children. Jenne wasn't shy about using the former Broward County sheriff's department to handle cases involving troubled youngsters. It was a priority for the former sheriff that made his department one of the state's five sheriff's offices to receive state social services funding for its role in curbing those types of crimes.

Given the state's looming budget crunch, Jenne will be missed. He'll no longer use his clout in Tallahassee from his days as a state senate leader to make sure the sheriff's department gets its fair share of state funding. So, don't be surprised if BSO under new management either backs off or is forced to reduce its committment to protecting troubled children.