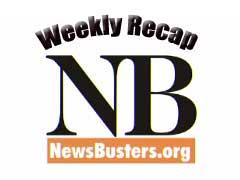 Grilling Cheney, Gushing For Gore
Larry King, best known recently for his scintillating interviews with thinkers such as Paris Hilton, proved that he can still ask tough questions, to conservatives that is. In an interview with Vice President Cheney about Guantanamo, he wondered, "You have to torture them when they're there?" Former VP Al Gore, on the other hand, received puff questions about Madonna and penguins.
The French Fries of Enduring Love
Speaking of media coddling, "Good Morning America" anchors Diane Sawyer and Robin Roberts appeared to be infatuated with the story that 2008 Democratic candidate John Edwards and his wife Elizabeth spend their wedding anniversaries at Wendy's. Roberts even promoted the former senator by referring to him as "Presidential nominee" John Edwards.
The Democratic fawning continued as NBC's "Today" show host Matt Lauer declared former President Bill Clinton to be a "peacemaker," an "elder statesman" and proclaimed his political skills to be "second to none." How nice of the network to forget the whole impeachment thing.
One politician that ABC's "World News Sunday" apparently doesn't like is Tony Blair. Reporter Dan Harris used the "poodle" label three times in a story contrasting ex-Prime Minister Blair and Britain's new leader, Gordon Brown.
"After This...Bicycling with Obama"
Finally, what happens when NBC creates a jokey photo-op for far left 2008 Democratic candidate Mike Gravel? Well, it turns out that the former senator's skills at driving a cab (something he used to do in the '50s), aren't quite so sharp. He crashed the car with journalist Jonathan Alter inside.