Not that it's a big surprise, but it seems that the answer to "How do we spin Christmas shopping season?" at the New York Times depends on which party occupies the Oval Office in Washington.
Monday, The Times's Stephanie Clifford, with the help of two other reporters, blew the holiday sales horn. Here are the first few paragraphs of her report, entitled "Retail Sales Rebound, Beating Forecasts," with a browser window title of "Holiday Sales Return to Prerecession Level":
Americans are splurging as though it's 2007 again.
---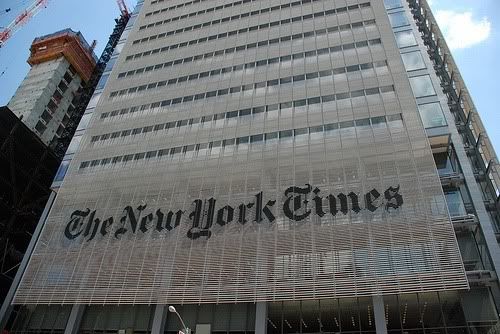 Two New York Times reporters were out to lunch, while the Old Gray Lady's layers of fact-checkers were apparently asleep at the switch.
In an item which contained a number of oddities, Times reporters Stephanie Clifford and Catherine Rampell wrote the following:
Over all, full-time work in retail is slightly down. The number of people employed in the retail sector in August fell 4.9 percent, to 14.4 million, from a year earlier, according to the Bureau of Labor Statistics.
My initial reaction was to wonder how a 4.9% drop in employment, which would involve about 700,000 jobs, could be "slight." But in this case, media bias isn't the problem (possible examples of bias will come later).
A look at the same BLS data the Times pair must have used reveals a likely level of sloppiness that should never gotten online, let alone into print (which it did -- on Page B1 in the October 6 paper):
---
A Monday New York Times story by Stephanie Clifford gave one cheer to the National Enquirer tabloid for its work on breaking the news of former Democratic presidential candidate John Edwards's affair with Rielle Hunter, and their child. It was a story the Enquirer pursued almost alone and which could earn it an unprecedented Pulitzer: "From Rumor to a Hint of Respect."
But the excuses Clifford forwarded on behalf of the rest of the media were unconvincing, especially regarding the Times's own steadfast silence on the burgeoning scandal.
By being the first and, largely, the only publication pursuing the Edwards story through his denials of the affair and of fathering a child out of wedlock, The Enquirer is under consideration for a Pulitzer Prize, and it has strong support for its bid from other journalists. The success has Mr. Levine considering opening a Washington bureau to look for more dirt among politicians.

---