An Associated Press report a week ago by Pallovi Gogoi on how economists would like to see taxes increased to close the government's annual budget deficit (I guess because tax increases have done so well at closing deficits before - /sarc) has a truly curious sentence about the Keystone Pipeline: "The project drew opposition from environmentalists, while supporters say it will create over 1,000 jobs." That's right -- 1,000.
Actually, as almost everyone at NewsBusters knows already, the number is much larger than 1,000. A recent item at About.com by Tom Murse identifies all of the major estimates offered thus far:
---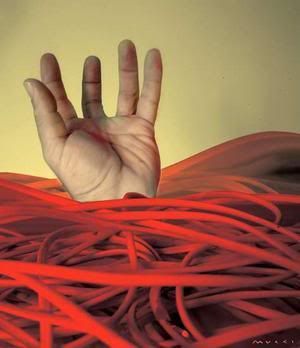 In the earlier paragraphs
of a Friday report
on the recently passed small business lending bill at the Associated Press, reporter Pallavi Gogoi gave readers the impression that Congress's allegedly noble intentions might be thwarted because banks and businesses who should apparently be grateful for the "help" don't want it.
Gogoi gives no direct indication that the bill involves government "investment" in (i.e., partial state ownership of) participating financial institutions.
The AP reporter didn't have to look very far to see what's really involved. The defined purpose of the bill, which weighs in at over 40,000 words (full text here), is right there at its beginning (bold is mine):
An Act -- To create the Small Business Lending Fund Program to direct the Secretary of the Treasury to make capital investments in eligible institutions in order to increase the availability of credit for small businesses, to amend the Internal Revenue Code of 1986 to provide tax incentives for small business job creation, and for other purposes.
This is not very different from what ended up happening with the Troubled Asset Relief Program (TARP) enacted two years ago. In fact, two lawyers writing on the law's potential impact
describe it
as a "mini-TARP." You'd never know that from Gogoi's report (one cryptic reference to the underlying state control involved is in bold):
---