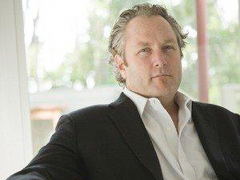 Andrew Breitbart has found a simple remedy to at least some of the problems that ail contemporary journalism: cold, hard cash. Yesterday he offered $100,000 to anyone who will supply him with the full archive of JournoList, the email listserve that
brought down Dave Weigel
.
"$100,000 is not a lot to spend on the Holy Grail of media bias when there is a country to save, "
Breitbart wrote
yesterday. Americans "deserve to know who was colluding against them," he added, "so that in the future they can better understand how the once-objective media has come to be so corrupted and despised."
And there's the rub: Breitbart is attempting to out liberal journalists as just that: liberal. His tactics and his objectives have been dubbed by some on the left as "
digital McCarthyism
," in the words of Michael Roston, "in which any of us could become the next Dave Weigel based not on the public output of our journalism, but based on our private sentiments."
---