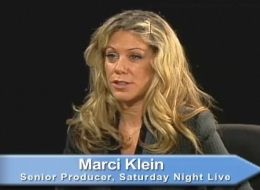 Stop the presses! 
A member of the mainstream media actually said something nice about Alaska Governor Sarah Palin.
I kid you not: "Saturday Night Live" senior producer Marci Klein said during an interview last week, "This is the most confident person I've ever met."
Certainly not the impression created by CBS's Katie Couric or ABC's Charlie Gibson, wouldn't you agree?
Appearing on Julie Menin's "Give and Take," Klein had absolutely nothing but nice things to say about the press's current public enemy #1 (video embedded below the fold with partial transcript, relevant section at 2:25):
---