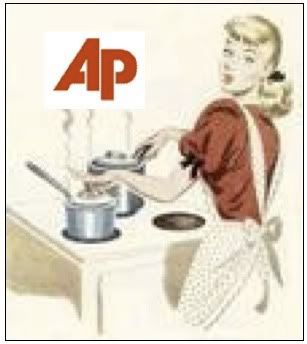 That the Associated Press's basement-level poll-cooking and poll-reporting standards are quite low, and quite agenda-driven, might as well be an article of faith by this time.
But the wire service-commissioned poll on health care, and Erica Warner's report on it (saved here for future reference, fair use, and discussion purposes; HT JammieWearingFool via Instapundit; the full poll report in PDF format is here) plumbs new depths of partisanship while making errors of both omission and commission.
Warner and AP want the big takeaway to be that taxing "the rich" is the idea the public overwhelmingly favors to pay for ObamaCare -- never mind that the same public also opposes the plan itself.
What follows is a graphic containing selected paragraphs from Werner's report:
---
News editors need to retake Journalism 101 or move to features when stories about the White House dog take precedence over a controversial veto by the President's unconfirmed appointment to Secretary of Health and Human Services.
Kansas Governor Kathleen Sebelius vetoed a bill, House Substitute for SB 218, April 23 which would have placed additional restrictions on third trimester abortions and allowed more criminal charges over late-term procedures to occur.
With the exception of "Special Report with Bret Baier" that night and "Fox and Friends" the morning of April 24, the broadcast media avoided covering the controversial decision. But "Today," "The Early Show," and "Good Morning America" all had time to cover Michelle Obama talking about the first family's new dog Bo the morning of April 24.
---