I do hope that Associated Press reporters Arthur Max and Charles J. Hanley are finding some recreational time while they are reporting from Cancun about what's happening at the "United Nations Framework Convention on Climate Change."
The pair's bosses ought to be asking them how much real attention they are paying to the festivities since they began. For example, as far as I can tell from two reports by Mr. Max (here and here), he seems to have missed the opening prayer to the pagan goddess Ixchel; Ken Shepherd at NewsBusters took note of it from thousands of miles away. We'd understand if you were really at the beach, Arthur.
Hanley's report early this morning also seems quite oblivious to what's really going on in Cancun:
---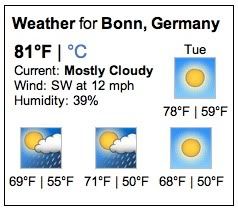 The past week has brought forth a couple of items from the Associated Press's -- and for the most part the establishment press's -- special corner of journalistic unreality. It is an area where human-caused global warming is still a given, and where that the nastiness known as
ClimateGate
that exposed the entire global warming enterprise as entirely unsupported by verifiable scientific data doesn't exist. Maybe we should refer to that special corner as "The Climate Zone."
The reports each arrived via AP Writer Arthur Max. Mr. Max and conference attendees at climate negotiations in Bonn shouldn't be mad about having the opportunity to spend time in West Germany's former capital city. After all, the temperatures there, based on the current report for Tuesday and plus the three forecasted days in the graphic at the top right (seen currently at Google), are on track to be virtually identical to the city's pleasant historical August average highs and lows of 73 and 54 degrees, respectively, for August.
But despite the reasonably pleasant atmosphere (yeah, I know temps and climate aren't the same, so back off already), Mr. Max's August 6 and August 8 reports tell us that discussions between "rich" and "poor" countries have been quite frosty. Meanwhile, reactions from the the supporters of international statist expansion in the environmental movement who are on hand for the festivities have been quite heated. Overall, everyone, including the clumsy Mr. Max, is making mince meat of President Barack Obama's claim, occasionally echoed in establishment press outlets at the time, to have accomplished anything meaningful at last December's Copenhagen conference.
First, here are the opening paragraphs from Max's Friday missive:
---
Associated Press reporter Arthur Max played up how the United States drew "sustained applause" on Sunday in Germany for joining the liberal consensus on the need for dramatic energy regulation to stop the "climate change" menace. Absolutely no one in the story questioned that consensus, and Max even downplayed how the Senate (Democrats included) voted on a resolution opposing the Kyoto climate-change treaty 95 to 0.
---