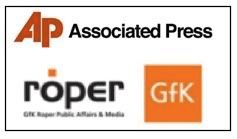 So what's more important: The fact that independents are as "upset" as Republicans, or that Americans' disapproval of how President Obama is handling the economy is at an all-time high?
Here's another priority-related question: Is it more important that "independents and Republicans were half as likely as Democrats to be inspired and less prone to be hopeful, excited and proud," or that Republicans are now more trusted than Democrats in handling the economy, representing a 10-point swing (from -5% to +5%) in just three months?
If you're the Associated Press's Alan Fram and Jennifer Agiesta reporting on your own poll -- an AP-GfK poll found in full at this link (click on "September 8th - September 13th 2010 - AP-GfK Poll Topline" when you get there) -- you would apparently say that the first alternatives in each question are more important, even though terms like "upset," hopeful," excited," and "proud" are subjective, and the items that trigger these emotions will vary widely among survey respondents.
Why, if I didn't know better (I think I do), I'd say that Agiesta and Fram filtered out the worst of the bad news for Democrats in favor of the touchy-feely stuff.
Here are several paragraphs from the AP pair's report:
AP-GfK Poll: Independents as upset as Republicans

More bad news for Democrats clinging to control of Congress: Independent voters are nearly as grumpy as Republicans about politics this year.

In an Associated Press-GfK Poll this month, 58 percent of independents and 60 percent of Republicans said politics is making them angry, compared with 31 percent of Democrats who said so. About 7 in 10 independents and Republicans were disgusted, compared with 4 in 10 Democrats, and independents and Republicans were likelier than Democrats to be disappointed, depressed and frustrated.

As for positive emotions, independents and Republicans were half as likely as Democrats to be inspired and less prone to be hopeful, excited and proud.

The figures are the latest cautionary note for Democrats, who face a Nov. 2 Election Day in which the sluggish economy and President Barack Obama's tepid popularity give Republicans a strong chance to capture control of the House and perhaps the Senate. They also help explain why independents, who can be pivotal in many congressional races, prefer their GOP candidate over the Democrat by 52 percent to 36 percent - which grows to 62 percent to 29 percent among independents considered likeliest to vote.
Well, I guess we should give the two reporters credit for finally getting to something substantive at the end of the fourth paragraph -- by which time a number of readers will have tired of the focus on emotions.
Now let's look at some of the meat Fram and Agiesta chose to ignore.
By a margin of 58-42, respondents disapproved of how President Obama is handling the economy: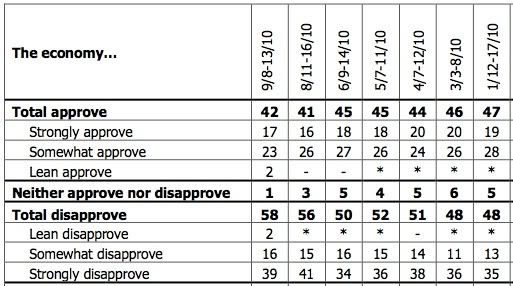 As you can see, that's up from a virtual tie just six months ago.
By that same 58-42 margin, respondents disapproved of the president's handling of unemployment, an 18-point swing from six months ago: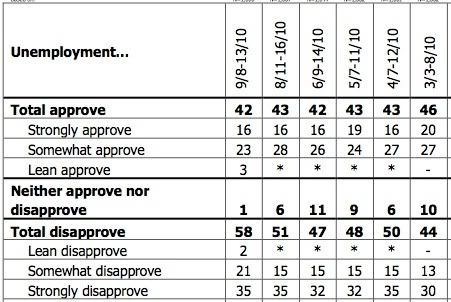 Perhaps most damning, the majority of those polled who say that Obama "understands the problems of ordinary Americans" is the narrowest ever, and miles lower than it was at the beginning of the year: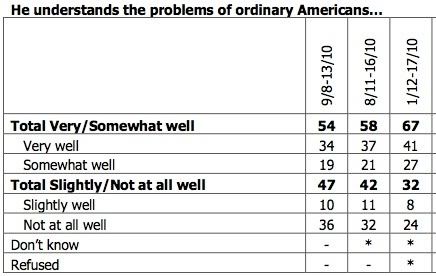 My guess, based on the timing presented as to when the question has been asked, is that AP-GfK was hoping for a better September result than they got.
After inexplicably narrowing in August, respondents' net unfavorable impression of House Speaker Nancy Pelosi is 23 points: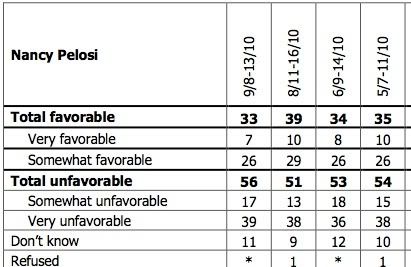 This would seem to explain why congressional candidates are running away from her. Voters should remember that "Dems Deserve No Distance" from Pelosi, Obama, or Harry Reid if they are up for reelection and voted for one of the following: the failed stimulus plan, cap and trade, or ObamaCare.
Finally, Republicans have gained the upper hand in respondents' trust on handling the economy for the first time since Obama has been president:

Each one of the five findings I presented is far more important than the deep dive the poll took into nebulous emotions. Readers will surely find several others that would also qualify as more important if they go to the complete poll.
Tellingly in my view, the poll presents no prior information on respondents' emotions other than for "happy." I believe that the September poll was the first time most emotion-related questions were asked -- which is further evidence that the AP and GfK were looking for any kind of polling "news" that would give them an excuse for not delivering the data readers have a right to expect.
Cross-posted at BizzyBlog.com.