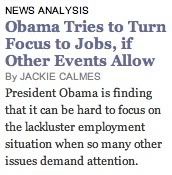 In a Friday news analysis piece that appeared in the paper's print edition today (teased at its web site as seen on the right), Jackie Calmes at the New York Times began with a pathetic headline, and opened with pity on our poor overwhelmed, stressed-out, stretched-in-all-directions President:
Obama Tries to Turn Focus to Jobs, if Other Events Allow

President Obama keeps trying to turn attention to "jobs, jobs, jobs," as his chief of staff has put it. But he is finding that it can be hard to focus on any one issue when so many demand attention, often unexpectedly.
This is simply another variation on the "distracted" President theme I noted last year (at NewsBusters; at BizzyBlog). You know, if those terrorists and other messy realities wouldn't intervene, Barack Obama could do his job sooooo much better.
Calmes resumed the pity party in her seventh paragraph:
Meanwhile, the world keeps intruding as Mr. Obama tries to execute his promised pivot.

No sooner was the president home on Monday from his Hawaiian holiday break than he was closeted for days at the White House with his national security team, on responses to the foiled Christmas Day airliner attack.

With House and Senate Democrats now in the home stretch of their negotiations for a compromise on health care legislation, he will have to be more directly involved than ever before in those gritty legislative details.

Anita Dunn, until recently Mr. Obama's communications director, said that when the health care bill was completed, "that will give the administration more space to really communicate to the American people about those things that have been done and that the president continues to push forward on to make the economy work for middle-class families."

Mr. Obama, in his Friday afternoon statement on the job numbers, called them a reminder "that we have to continue to work every single day to get our economy moving again. For most Americans, and for me, that means jobs."
Calmes's citation of statist health care legislation is particularly intriguing. A strong argument can be made that if the president wants to do something to quickly improve the prospects for job creation, suggesting that Congress abandon its effort to have the government seize de facto control over one-sixth of the economy might be the ticket.
The Wall Street Journal backhandedly makes that very assertion in an editorial today:
With so much policy uncertainty out of Washington and the state capitals, no one can be sure what they will pay for energy (rising oil prices, cap and trade) or new regulation (antitrust), how high their taxes will rise, and how much each new employee will cost (health care). In this kind of world, employers will wait as long as possible to add new workers.
Removing the health care component of that uncertainty could and probably would do wonders for employers' current hiring avoidance. If the president were really interested in "get(ting) our economy moving again," he would focus on that. Don't hold your breath.
Finally, how interesting it is that Calmes went to Anita "Mao Inspires Me" Dunn for a comment. Van Jones must not have been available.
Cross-posted at BizzyBlog.com.