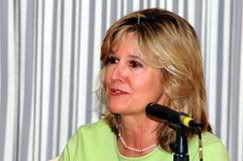 It's no surprise that elitism and a pretentious point of view have a place on The Washington Post editorial page, but even this is a little much.
Pseudo-conservative columnist Kathleen Parker asserted that Trig Palin, the Down syndrome son of the 2008 Republican vice-presidential nominee and former Alaska Gov. Sarah Palin might one day find his mother's abortion comments "hurtful." A Feb 14 column published in the Post focused on the delicate art of criticizing Palin's recent political and personal defense of the special-needs community, stemming from White House Chief of Staff Rahm Emanuel's controversial comments involving the word "retarded."
Parker recounted Palin's brief mention that she understands how women entertain the thought of abortion when learning about the special needs of an unborn child.  Instead of praise for Palin's honesty and candor, Parker seized the opportunity to criticize Palin's outspokenness and attempted to speak on behalf of her son. 
"Doubt always stalks conviction, but does it demand expression?" wrote Parker. "Might Trig someday read his mother's abortion thoughts and find them hurtful?" 
These comments come after Parker readily admitted that "the genius of Palin's good-hearted-ness" makes it difficult for pundits to criticize her because "this is virgin territory for politicos." 
While noting the tricky nature of criticizing Palin on the subject of special-needs children, Parker found it appropriate to suggest that Palin's "noble intentions" may "become Trig's exploitation." But Parker herself may be guilty of exploiting Trig to get her point across when she blatantly suggested that he might wish for his mother to remain silent on the issue.
"Perhaps the erstwhile governor still thinks in first-person plural, viewing Trig as part of herself." Parker wrote. "But he is also a separate individual deserving of privacy, if unable to say the words she needs to hear: 'No more, Mama, please.'"
Parker also defended Palin's comments about the "inappropriateness of the remark" made by President Barack Obama about his own bowling skills belonging in the Special Olympics. But not two sentences later, Parker attacked Palin's quick response saying, "Will we be hearing from Palin every time someone uses the R-word or makes a lame joke?" That suggests Parker can't seem to make up her mind whether or not the joke was "lame" or in fact deserving of Palin's "objections."
But this isn't the first time Parker has demonstrated her need to attack the former Alaska governor. Early on in Palin's ascendancy to the national spotlight, Parker called for Palin to resign from the GOP ticket in an Oct. 4, 2008 column due to her lackluster interviews on the campaign trail.