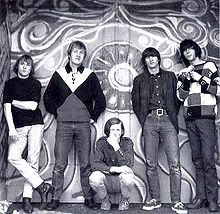 Isn't that Paul Krugman clever? The title of his latest op-ed ("Paranoia Strikes Deep") quotes a line, presumably deliberately, from a 1960s protest song many consider one of the opening shots in that decade's protest movement.
Before he got cute with his title, Krugman should have gone to the song's full lyrics, as they only serve to prove that what he describes as paranoia is, based on what is in HB 3962 (or was, if excised at the last minute), really very justifiable concern and fear. Or maybe he read the lyrics and was too dense to appreciate their meaning in the current circumstances.
The song that apparently inspired Krugman's column title is "For What It's Worth," a 1966-1967 mini-hit by Buffalo Springfield. The album containing the song peaked at #80 on the hit charts; my recall is that the single made it to the mid-30s.
That band featured Neil Young, Stephen Stills, Richie Furay, Jim Messina, and Dewey Martin. A YouTube of their lip-synching Smothers Brothers appearance is here.
Here are a few paragraphs, otherwise known as insults to our intelligence, from Krugman, commenting on the crowd that gathered last Thursday to protest the House's statist health care bill. I'll follow it with the song's final lyrical lament that destroys Krugman's diatribe:
The key thing to understand about that rally is that it wasn't a fringe event. It was sponsored by the House Republican leadership — in fact, it was officially billed as a G.O.P. press conference. Senior lawmakers were in attendance, and apparently had no problem with the tone of the proceedings.

True, Eric Cantor, the second-ranking House Republican, offered some mild criticism after the fact. But the operative word is "mild." The signs were "inappropriate," said his spokesman, and the use of Hitler comparisons by such people as Rush Limbaugh, said Mr. Cantor, "conjures up images that frankly are not, I think, very helpful."

What all this shows is that the G.O.P. has been taken over by the people it used to exploit.

The state of mind visible at recent right-wing demonstrations is nothing new. Back in 1964 the historian Richard Hofstadter published an essay titled, "The Paranoid Style in American Politics," which reads as if it were based on today's headlines: Americans on the far right, he wrote, feel that "America has been largely taken away from them and their kind, though they are determined to try to repossess it and to prevent the final destructive act of subversion." Sound familiar?

But while the paranoid style isn't new, its role within the G.O.P. is.
This comes from a guy whose publication and others on the left were constantly worrying about "stifling of dissent" that occurred at the behest of George W. Bush only in their vivid, authentically paranoid imaginations. 
The final verse of "For What It's Worth," with text added by me frpm what's really in HB 3962 (unless excised in the final hours, but which could reappear at any time if that's case), reads as follows:
Paranoia strikes deep.
Into your life it will creep.
It starts when you're always afraid.
You step out of line ....


the man come ....

and take you away:
Thanks for proving our point, Paul. It's not paranoia if it's really there, or if "the man" (actually in this case Nancy Pelosi and her party) is really contemplating putting people in jail merely for not buying health insurance.
I think that a better theme song describing the Tea Party and other sensibly conservative, Constitution-based protests would be the Who's "We Won't Get Fooled Again." It may be too late for Krugman, who seems totally fooled by the current bunch in the White House, more and more resembling one of Lenin's useful idiots.
Cross-posted at BizzyBlog.com.