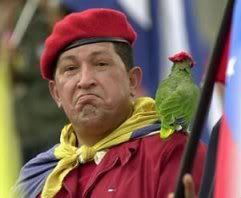 "From this day on, the official language of San Marcos will be Swedish. Silence! In addition to that, all citizens will be required to change their underwear every half-hour. Underwear will be worn on the outside so we can check. Furthermore, all children under 16 years old are now... 16 years old!"
The recent denunciation of the "bourgeois" sport of golf by Hugo Chavez, along with  the other bizarre eccentricities of the Venezuelan leader, certainly does evoke comparisons to the power crazed rebel leader, Esposito, in the Wooden Allen film, "Bananas." However, New York Times reporter, Simon Romero, in his story noting the golf denunciation by Chavez, goes out of his way to slam someone completely unrelated to this story---Bill O'Reilly.
First the latest in the long list of Chavez nuttiness:
CARACAS, Venezuela — President Hugo Chávez's political movement has found a new target: golf. 

After a brief tirade against the sport by the president on national television last month, pro-Chávez officials have moved in recent weeks to shut down two of the country's best-known golf courses, in Maracay, a city of military garrisons near here, and in the coastal city of Caraballeda.

"Let's leave this clear," Mr. Chávez said during a live broadcast of his Sunday television program. "Golf is a bourgeois sport," he said, repeating the word "bourgeois" as if he were swallowing castor oil. Then he went on, mocking the use of golf carts as a practice illustrating the sport's laziness.
Would it be okay if the golfers play while wearing their underwear on the outside so as to make it less "bourgeois?"
Okay, so I think we now have yet another example of how Hugo Chavez is using this authoritarian (bordering on totalitarian) regime to enforce his personal pet peeves. Yet reporter Romero then veers into completely unrelated territory to take a cheap shot at Bill O'Reilly who has nothing to do with this story:
Backing up Mr. Chávez, a noted baseball fan, state media here have gone after golf.

Mario Silva, a Bill O'Reilly-esque host of an acidic commentary program called "The Razor Blade" on state television (imagine Mr. O'Reilly speaking against a background of portraits of Jesus, Mr. Chávez and Fidel Castro), told viewers that golf was simply a sport of the elite.
Imagine the New York Times sticking to the story instead of allowing a reporter to slam a Fox News host. Yeah, we understand the Times really really dislikes Fox News but to insert this hate into a story completely unrelated to the story is as nutty as, well, the vilification of golf by Hugo Chavez.
This is a case where the New York Times scored a hole in one...NOT!