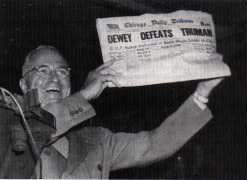 Talk about stuck on stupid! The Irish bookmaker, currently being featured on the Drudge Report, who is paying out early for a Barack Obama "victory" before election day even arrives, also paid out early on Ireland's "Yes" vote in the referendum on the European Union Treaty of Lisbon. The problem was, despite the bookmaker's overconfident "Yes" vote payout, Irish voters ended up voting "No" on that treaty. You would think any bookmaker who got burnt bigtime by authorizing an early payout would never ever even consider a repeat performance but not this bookmaker, Paddy Power, as you can read in this Reuters report (emphasis mine):
DUBLIN (Reuters) - Ireland's biggest bookmaker Paddy Power said Thursday it would pay out early more than 1 million euros (782,776 pounds) on bets that Barack Obama will be the next U.S. president, three weeks ahead of the election. 

The Dublin-based bookmaker said it made the "unprecedented decision" to pay on bets taken so far, following Wednesday's final campaign debate between Obama and his Republican rival John McCain, which polls judged the Democrat to have won.

"We declare this race well and truly over and congratulate all those who backed Obama," Power said.

"Although he seemed a little out of sorts in last night's final debate we believe he has done more than enough to get him across the line on November 4."

The bookmaker said the overall betting trend had shown "one- way traffic" for the Illinois senator since the start of the summer, with odds shortening to 1-9, meaning a bet of 9 euros is required to make 1 euro profit.

Power said it had taken more than 10,000 bets on the 2008 U.S. presidential election, the majority in support of Obama.

In June a wager of 100,000 euros was placed on Obama to win at odds of 1-2, yielding a payout of 150,000 euros, it added...
"Unprecedented decision?" Apparently Mr. Paddy Power forgot how he lost a lot of money just a few months ago by making an early payout on another vote as you can read in this Irish Times story from last June:
Bookmaker Paddypower has admitted it made a mistake, after paying out more than €80,000 in bets on a Yes vote in the Lisbon Treaty referendum.

As polls closed at last night, the bookmaker made a decision to pay out punters who had backed a Yes vote after unofficial exit polls indicated a late surge in support for the treaty.

The blunder means the bookmaker will be forced to pay out over €180,000 in referendum bets.

In a statement, Paddy Power said: "Last night, there were rumours of an exit poll showing the Yes side in the lead and all the late betting suggested a swing in support for the treaty."

"It's an unlucky Friday 13th for Paddy Power but a lucky one for our punters," it added.
Perhaps both Reuters and the Drudge Report might want to update this bookmaker story with the fact that he erroneously made a big payout on another vote last June.  And if Mr. Power makes the same mistake again he should seriously consider renaming his bookmaking establishment as "Stuck On Stupid." Oh well, if the worst happens to Paddy Power, he can always drown his sorrows at the Barack Obama victory party at Grant Park in Chicago.