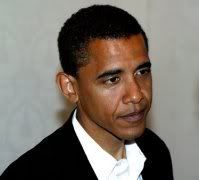 (Wikipedia has now removed Obama's name from their "New Party" Wikipedia page. See update at bottom of this blog for details.)
I don't know how long Barack Obama's name will remain on the Wikipedia page for the New Party entry but it looks like it was added yesterday after a bit of struggle. By not so strange coincidence, your humble correspondent also provided evidence yesterday that Obama was a member of the socialist New Party. First the description of the New Party in Wikipedia:
The New Party was a third political party in the United States that tried to re-introduce the practice of electoral fusion as a political strategy for labor unions and community organizing groups. In electoral fusion, the same candidate receives nomination from more than one political party and occupies more than one ballot line. Fusion was once common in the United States but is now commonly practiced only in New York State, although it is allowed by law in seven other states. The party was active from 1992 to 1998. There had been an earlier New Party in 1968 that ran Eugene McCarthy for President.

The New Party was founded in the early 1990s by Daniel Cantor, a former staffer for Jesse Jackson's 1988 presidential campaign, and by sociology and law professor Joel Rogers as an effort to break with the largely unsuccessful history of left-leaning third parties in the United States.

The party could best be described as social democratic in orientation, although party statements almost invariably used the terms "small-d democratic" or "progressive" instead. Its founders chose the name "New Party" in an effort to strike a fresh tone, free of associations with dogmas and ideological debates.
Although Wikipedia did not use the term "socialist" on the "New Party" page, that party is listed in the Wikipedia page category titled, "Democratic Socialist and Social Democratic parties and organizationss in the United States."  And now we come to the Obama mention on the "New Party" Wikipedia page:
The party's chapters elected or helped to elect dozens of candidates, including Barack Obama's 1996 run for the Illinois State Senate. [1]
That footnote leads to this archived New Party page that the Obama campaign thought had been permanently scrubbed but, unfortunately for them, remains at the webarchive.org with this highly inconvenient entry:
Illinois: Three NP-members won Democratic primaries last Spring and face off against Republican opponents on election day: Danny Davis (U.S. House), Barack Obama (State Senate) and Patricia Martin (Cook County Judiciary).
And that was enough, after some apparent struggle, to allow Barack Obama's name to be placed on the Wikipedia New Party page. You can see there was a bit of a struggle to update the Wikipedia New Party page by taking a look at the discussion:
Oct 8 Revision

Reverted this addition because (i) it was a wholesale cut and paste from another source which violates fair use WP:FU, and (ii) the cut and paste was from a blog, which is not a reliable source per WP:SPS Fladrif (talk) 19:12, 8 October 2008 (UTC)

The next crack at adding this material was much better, though this stuff still violates WP:NOR. I'll leave that particular dispute to somebody else. Cleaned up the references. The link to the Obama website is not a proper general reference for this article, and was removed. See WP:REF. Fladrif (talk) 21:50, 8 October 2008 (UTC)
So it took two attempts to include Barack Obama on the New Party page. However, there is now an attempt to remove Obama's name as you can see:
Right wing attacks

The Obama references were added within the last few days or hours of this alleged rumor coming out. As of now, I don't believe this rumor to be true or even credible. Full context needs to be provided and I'm sure the Obama campaign will respond. Until then, I can not let something outrageous or libelous like this to stand. —Preceding unsigned comment added by 76.87.37.171 (talk) 07:50, 9 October 2008 (UTC)

It's not a "rumor" that the NP supported Obama's 1996 run. The source for the Oct. 8 edit which states this fact is the Internet Archive copy of a 1996 "update" page from the New Party's own web site, located at http://web.archive.org/web/20010306031216/www.newparty.org/up9610.html . You can pull this page up yourself by going to the Internet Archive at http://www.archive.org/index.php and putting the URL "http://www.newparty.org/up9610.html" into the Wayback Machine. It has archived copies of that page that were cached between 1997 and 2003. That page even describes Obama as a "member" of the NP, so the statement that the NP supported his run is in fact an understatement. It is not outrageous or libelous to base a statement in the article on the New Party's own words. —Preceding unsigned comment added by 68.127.147.29 (talk) 15:30, 9 October 2008 (UTC)

Is one example from an archived web page from 1996 proof enough of the claim that Obama was a memeber of this organization? There's no other information I've seen corroborating this information. This combined with the timing around this addition (this story hit the right wing blogs yesterday) should be reason enough to disqualify the addition unless a better source shows up. —Preceding unsigned comment added by 98.226.73.250 (talk) 16:27, 9 October 2008 (UTC)
Sorry, unsigned, but there are more that just one source for Obama's membership in the New Party such as this entry in the November 1996 Progressive Populist magazine:
 New Party members and supported candidates won 16 of 23 races, including an at-large race for the Little Rock, Ark., City Council, a seat on the county board for Little Rock and the school board for Prince George's County, Md. Chicago is sending the first New Party member to Congress, as Danny Davis, who ran as a Democrat, won an overwhelming 85% victory. New Party member Barack Obama was uncontested for a State Senate seat from Chicago. 
Still not satisfied, Mr. Unsigned? How about one more for the road such as this entry from the July/August 1996 edition of the Democratic Socialists of America? 
The Chicago New Party is increasely becoming a viable political organization that can make a different in Chicago politics. It is crucial for a political organization to have a solid infrastructure and visible results in its political program. The New Party has continued to solidify this base.
First, in relation to its infrastructure, the NP's membership has increased since January '95 from 225 to 440. National membership has increased from 5700 in December '95 to 7000. Currently the NP's fiscal balance is $7,000 and receives an average of $450/month is sustainer donations.

Secondly, the NP's '96 Political Program has been enormously successful with 3 of 4 endorsed candidates winning electoral primaries. All four candidates attended the NP membership meeting on April 11th to express their gratitude. Danny Davis, winner in the 7th Congressional District, invited NPers to join his Campaign Steering Committee. Patricia Martin, who won the race for Judge in 7th Subcircuit Court, explained that due to the NP she was able to network and get experienced advice from progressives like Davis. Barack Obama, victor in the 13th State Senate District, encouraged NPers to join in his task forces on Voter Education and Voter Registration. The lone loser was Willie Delgado, in the 3rd Illinois House District. Although Delgado received 45% of the vote, he lost by only 800 votes. Delgado commented that it was due to the NP volunteers that he carried the 32nd Ward. Delgado emphasized that he will remain a visible community activist in Humbolt Park. He will conduct four Immigration workshops and encouraged NP activists to get involved.
So if this is just some "Right Wing Attack" as unsigned alleges that must mean that the Obama campaign must have responded to this "smear" on its "Fight The Smears" website.  Yes, our beloved Barack is sure to set the record straight on that page and...oops! There is exactly zilch in terms of any denial that Obama was a member of the socialist New Party on his page. 
And now we shall watch with interest how long Barack Obama's name remains on Wikipedia's "New Party" page as well as to see what kind of onslaught will be launched to remove his name. Remember, Wikipedia, the NewsBusters Eye of Sauron is upon you. 
UPDATE: Well, that didn't last long. Wikipedia has now removed Barack Obama's name from their "New Party" page. The excuse for the removal by Wikipedia is that Obama was merely "supported" by the New Party, not necessarily a member of it despite all of the documentation to the contrary. Yes, Obama was a Democrat but also a member of the New Party at the same time but Wikipedia, despite the evidence seem to think a membership in the Democrats somehow excludes membership in the New Party. Oh, and why no denial of the New Party membership on Obama's "Fight the Smears" page? Congrats to Wikipedia for once again caving in to the left.