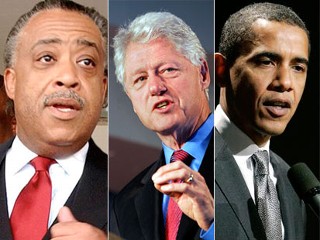 The Rev. Al Sharpton has some strong words for the Clintons: put your full support behind Barack Obama this week, or risk damaging your legacy.
Such was reported by the LA Times Tuesday, although it seems unlikely it will get much attention from media trying to present a unified Democrat image at the convention.
Frankly, that the Times "Top of the Ticket" blog would report this is somewhat surprising...and it will be even more surprising if it makes tomorrow's print edition (emphasis added):
Rev. Al is not happy with the Clintons.

With the Democratic National Convention abuzz with anticipation over Hillary Clinton's speech to it tonight, civil rights activist Al Sharpton says she and her husband, former President Bill Clinton, cannot afford anything less than an extraordinary effort to help Barack Obama's presidential candidacy -– beginning this week with an intensified push for party loyalty.

Otherwise, Sharpton warned today, their reputations within the party -- once sterling -- could be permanently tarnished. [...]

"It can damage their legacy in the long run if they don't get a grip pretty quick," Sharpton told The Times.
Think this will get a lot of attention in the next 48 hours? Stay tuned.