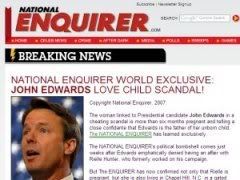 The Democratic convention, now looming ever closer on the horizon, is facing a crises that threatens to distract attention from Barack Obama. It is John Edwards and the scandal surrounding him. Apparently, Edwards was slated to have a prominent role as a speaker at the convention but now Democrats are worried about letting him appear on stage as reported by Mark Johnson of the McClatchy Washington Bureau (emphasis mine):
RALEIGH, N.C. — Former Sen. John Edwards has a deadline to save his spot on the national stage.

With two weeks to go before their national convention, a number of Democrats are saying that Edwards needs to publicly address National Enquirer stories that have alleged he had an affair with a campaign worker and fathered her baby.

If Edwards fails to clear up the story in short order, he risks party officials deciding not to have him speak or, if they do, creating a distraction from a week focused on Barack Obama accepting the nomination.

"If there is not an explanation that's satisfactory, acceptable and meets high moral standards, the answer is 'no,' he would not be a prime candidate to make a major address to the convention," said Don Fowler, a former Democratic National Committee chair.

Democrats gather in Denver on Aug. 25 and Edwards, as the 2004 vice presidential nominee and a presidential candidate who won delegates this year, ordinarily would be locked in as a speaker.
This will also place incredible pressure upon the mainstream media. If Edwards is denied the opportunity to speak at the convention, how will they report it? Of course, the only possible explanation is that the love child scandal swirling around him was too controversial to allow him to speak. However, since the MSM has barely mentioned this scandal to this point, they would have a tough time explaining this. Another top Democrat has acknowledged that the MSM has purposely refrained from reporting on the scandal:
"He absolutely does have to (resolve it). If it's not true, he has to issue a stronger denial," said Gary Pearce, the Democratic strategist who ran Edwards' 1998 Senate race. "It's a very damaging thing. …

"The big media has tried to be responsible and handle this with kid gloves, but it's clearly getting ready to bust out. If it's not true, he's got to stand up and say, 'This is not true. That is not my child and I'm going to take legal action against the people who are spreading these lies.' It's not enough to say, 'That's tabloid trash,' " Pearce said.
Does anybody out there think that the big media would be "responsible" and "handle this with kids gloves" if a Republican were involved? Another Democrat worries that even the compliant media would be forced to report on the scandal if Edwards were allowed to speak:
An appearance at the convention would only highlight the unresolved story, said Chris Lehane, a Democratic consultant and former aide to then-Vice President Al Gore. A convention speaking appearance could become the moment that drives news media coverage of the alleged affair to explode.

"You want to address these issues long before you get to that point," Lehane said. "Otherwise people who haven't written about it before, now start writing about it." Edwards' decision not to take questions about the alleged affair has allowed doubts to linger and political bloggers to speculate. The National Enquirer has reported that he fathered a child with a former campaign worker and met with her in a Beverly Hills hotel last month. He made no response to the National Enquirer's posting on Wednesday of what it said was a photo of Edwards and his illegitimate child. Two weeks ago, after the National Enquirer ran the story about the hotel liaison, he dismissed a reporter's question in Houston and used the "tabloid trash" line.
And being forced to write about the John Edwards scandal is something that the MSM would desperately want to avoid.