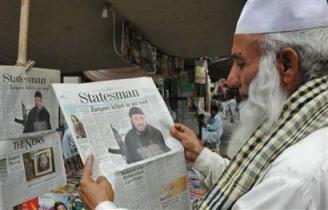 This weekend, we're doing two pictures for the captionfest. Here's the original of the first: "TV cameramen film a photograph displayed at a press conference in
Baghdad, Iraq purporting to show the body of Abu Musab al-Zarqawi, the
al-Qaida-linked militant."
Second: "A Pakistani Muslim reads a newspaper splashed with headlines of the
killing of al Qaeda militant Abu Musab al Zarqawi in Peshawar June 9,
2006."
Matthew Sheffield
Matthew Sheffield, creator of NewsBusters and president of Dialog New Media, an internet marketing and design firm, left NewsBusters at the end of 2013