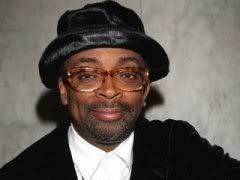 Film producer Spike Lee believes Barack Obama has a secret weapon that will be a big asset to his campaign: rappers.  Yes, in Spike Lee's opinion hip-hop music will be a key element in getting Obama elected. Lee expounded upon the importance of hip-hoppers in this election in the New York Times The Caucus:
Mr. Lee, who has often uses hip-hop music and casts hip-hop stars in his films, said that rappers should, well, feel free to mince their too-hot words at such a crucial time in American politics.
Of course, allowing hip-hoppers to play a part in a political campaign is fraught with danger:
In particular, the platinum-selling artist Ludacris referred to Senator Clinton as an "irrelevant" epithet and attacked Senator John McCain with the line, "Paint the White House black and I'm sure that's got 'em terrified/ McCain don't belong in any chair unless he's paralyzed."

For good measure, he referred to President Bush as "mentally handicapped."
For over-the-top rappers such as Ludacris, Lee did sound a note of caution:
"They gotta realize what they're doing," Mr. Lee said of the rappers, as he stood on the carpet outside Earl's Restaurant, as tourists snapped his photo on their cell phones. "It can't be about censorship, but they've gotta ask themselves, is there anything McCain can turn around and use against the campaign? No one wants to be the person who hurts the campaign."
Lee also warned that the coronation of Obama still wasn't quite a done deal yet although he sounded very confident:
Mr. Lee also warned that this election is "far from a done deal" and said that it was on rappers to stir up the people and get the vote out.

"We can't dance in the end zone yet," he says. "I'm confident that McCain and his boys will be pulling out the kitchen sink, the sauna, the tub, and Jacuzzi on Barack. People in power don't give up without a fight. I know they're excited. This is one of the most historic moments in American politics. It's just not a done deal."
Despite Lee's enthusiasm over the role of rap in the Obama campaign, The Caucus writer, Nicholas Powell,  worried about it backfiring:
However, the hip-hop love can become a double-edged sword for the Obama campaign. While it has helped mobilize young voters and make Mr. Obama a pop culture icon, the perceived explicit and misogynistic content in the lyrics of some of these artists has, at times, reflected negatively on Mr. Obama as a candidate.

When Ludacris released his song "Politics", the Obama campaign did some political damage control. While the Obama campaign spokesman Bill Burton denounced the song as offensive, the damage had already been done, and both Ludacris and Mr. Obama shared the media blame for the lyrics.
Your humble correspondent, posting from South Florida, is already chuckling over the effect loud rap music chock full of F-bombs while extolling the virtues of Obama would have on elderly condo commando voters down here. Somehow one thinks that such an effect would be somewhat less than positive.