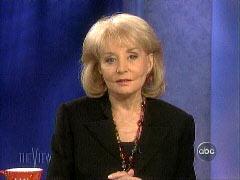 In "The View's" first live broadcast after Rosie O'Donnell announced her immediate departure, Barbara Walters addressed the issue. After introducing guest co-host Whoopi Goldberg, Walters said she was "very sad" and claimed that Rosie left on her own terms and "was never fired." "The View" creator asserted she has "admiration" and "affection" for Rosie and is "welcome to come back anytime she wants and we hope that will be often."
Elisabeth Hasselbeck, whose famous fight was Rosie's immediate reason for leaving, claimed she was "in communication" with Rosie this weekend and "begun the process" of "forgiveness." However, on Rosie's blog, Rosie claimed they exchanged e-mails and Elisabeth talked to Rosie's partner, Kelli, for some time, but stated they never actually talked. The entire transcript is below.
BARBARA WALTERS: Well, we had- it's been quite a week, as all of you, as all of you know and it was a week that makes us in many ways very sad. There was a little contretemps on the air. I think the Iraq War brings out a lot of very hot feelings and we had our own hot feelings on Wednesday. Thursday, when we thought we'd come back and be able to talk about it, the president must have heard what happened on Wednesday and we were preempted so we weren't on. And the other two days we've been on tape. But I have a couple things to say, because as most of you who have not been under a rock, know that Rosie O'Donnell is not coming back to finish the last three weeks on the show, as she was supposed to be. This all, this makes us very sad. Rosie and I have been e-mailing each other all weekend with the most affectionate notes because we are very close friends and, as I said last week, my admiration for her and my affection for her, Rosie, if you're watching, nothing will change that. I'd like to make it very clear and then we'll go on with our "Hot Topics" that Rosie was never fired and there was no, there was no desire to have her leave the show. We wanted to have her stay. In the beginning, it was her decision to leave the show because her representatives and ABC could not come to terms on her contract. It was her decision not to come back. We hoped that he she would have next year, as long as she wanted to. And then again, this time, it was Rosie's decision not to return for the other three weeks. She has said on her blog that she was upset by a split screen, which is a device that shows two people together. We've used the split screen, we used it several times last week. I just think that so much was exac- exacerbated?

JOY BEHAR: Exacerbated.

WALTERS: -by, by a very hot discussion that usually takes place off camera and took place on camera. But, you know, it is "The View," we do have different opinions. I will always -- we will always be grateful to Rosie for her contribution this year. She's welcome to come back any time she wants and we hope that it will be often. And "The View" will go on. There will be new people added to our panel and we've been a hot show for ten years and we're going to be a hot show for many years to come.

[applause]

BEHAR: Elisabeth wants to say something.

ELISABETH HASSELBECK: Well, you know, this has, it has been a panel where we've been able to just kind of shed any, any facade. You know, we come with our full passionate selves every day and I love being able to do that and Rosie and I have had incredible discussions, as have all of we, all year. And this weekend we were in communication a lot.

BEHAR: You were? Or- you were.

HASSELBECK: Yeah. We were in communication. And, you know, I think this weekend gave us the opportunity to tackle our most important hot topic yet and that was the power of forgiveness and I believe that we've begun that process. And so, now, that enables us to move on in a very positive way. So I'm really happy about that. And no need to worry. I know there have been a lot of concerns in the audience. You guys are still getting free gifts all the time.

[applause]
The MRC has a full report, with a whole bunch of video clips, of Rosie's many inflammatory remarks on The View and earlier: "The Full Rosie; Daytime Host's Long Record of Mean-Spirited Left-Wing Ravings."