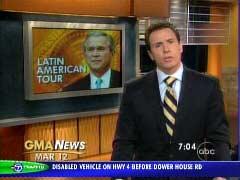 [Updated 5:20pm EDT] For the second time in a week, a media organization has seriously reported on the "evil spirits" that President Bush's trip to Latin America will bring. During a 7am news brief on the Monday edition of "Good Morning America," reporter Chris Cuomo noted that Bush's visit to a sacred Mayan ruin has resulted in protests. According to Cuomo:
Chris Cuomo: " President Bush's tour of Latin America stops in Guatemala today where he'll meet with that country's president. President Bush will also visit a sacred Mayan ruin today, making some protesters angry. They say President Bush will only bring, quote, 'evil spirits' to the site. On Sunday, during the President's nearly seven hours in Colombia, demonstrators clashed with police. The situation was so dangerous, a decoy motorcade was used on the way back to the airport."
Update: During the 8am news read, Cuomo repeated the story. This time, however, those warning of evil spirts were simply referred to as "critics":
Chris Cuomo: "President Bush visits with Guatemala's leader today and then will visit a sacred Mayan ruin, where some critics jab he is likely to leave behind, quote, 'evil spirits.' They say they are going to perform a spiritual cleansing there afterwards, just in case. The President has had a lot of heat during his visit. This was the scene on the streets of Colombia's capitol Sunday, during the President's brief visit there. [Footage of rioting protesters.]"
As already noted on NewsBusters, the AP also featured a story on President Bush and the "bad spirits" his trip is creating. Left unasked in the GMA piece is the question of just who these protesters are. Leftists? Communist supported groups? NBC's "Today" show filed a similar report on its morning broadcast.
Also, by way of contrast, the MRC's Tim Graham noted that ABC News portrayed a Bill Clinton trip to Latin America in a much more positive light. According to the network, Mexicans simply didn't care about controversies such as Whitewater.
-- "That answer, which the President has given before, will no doubt be scrutinized back in Washington but it has not ruined this Mexico trip. Mexicans could care less about Whitewater. They are joining the administration in calling this summit a success." -- ABC's John Donvan referring to Bill Clinton's insistence that "I know of no factual discrepancy, period" in Hillary's statements. May 6, 1997 World News Tonight.

-- "When the President fended off a Whitewater question by saying, 'Look, I'm just down here doing my job,' the Caribbean journalists burst into applause, in part because they had heard enough about Whitewater and wanted to talk more about bananas." -- Donvan from Barbados, May 10, 1997 World News Tonight/Saturday.
No evil spirits there.