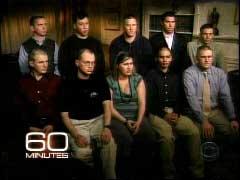 As NewsBusters previewed here and here, CBS's "60 Minutes" aired a segment Sunday dealing with a small group of American troops that have signed a petition called "Appeal For Redress." Simply put, these soldiers want U.S. troops to come home from Iraq immediately.
Unfortunately, the piece exaggerated the size of this group, while also misrepresenting military opinion of the war (video available here courtesy of Ms Underestimated, approximate transcript available here courtesy of CBSNews.com).
CBS's Steve Kroft introduced the segment:
Tonight you'll hear dissension in the ranks from a large group of soldiers and marines who are fed up and have decided to go public. They're not going AWOL, they're not disobeying orders or even refusing to fight in Iraq. But as correspondent Lara Logan reports, they are doing something unthinkable to many in uniform: bypassing the chain of command to denounce a war they're in the middle of fighting.
Notice that Kroft said "a large group of soldiers and marines." However, he didn't give an actual number. In fact, having watched the entire segment, and examined CBS's approximate transcript, I can't identify that the actual number of dissenters was ever revealed by Kroft, Logan, or any involved in the story.
Now, the CBS News website stated in its sub-headline concerning the story: "More Than 1,000 Military Personnel Sign Petition Urging Withdrawal." This seems to be a fair approximation based on estimates I've read. However, it does seem rather disingenuous of CBS to categorize this group as "large" when it appears to be less than one percent of those currently in Iraq.
Yet, such statistics were never addressed in this report. Instead, at one point Logan cherry-picked a December 2006 Military Times survey:
According to a recent Military Times survey, many in uniform feel the same way. The poll found that for the first time ever more US soldiers oppose the president's handling of the war in Iraq than support it.
Curiously, there were other elements of this same survey Logan chose not to share with her viewers. For instance, 41 percent of troops questioned felt that it was correct for the U.S. to go to war in Iraq, as opposed to 37 percent who felt it was a mistake. That seems to be much more important than how these folks feel about the president's handling of the war.
Furthermore, 50 percent of respondents felt that the U.S. is either somewhat or very likely to succeed in Iraq, compared to 41 percent who felt success is either not very or not at all likely.
Beyond this, 52 percent of respondents approved of the job George W. Bush is doing as president, compared to only 31 percent who disapproved.
Finally, and maybe most important considering the subject of this piece, only thirteen percent of those surveyed felt that there should be zero troops in Iraq and Kuwait. Again, pertaining to this piece, since Logan referenced this poll, wouldn't it have been pertinent to show that a complete troop withdrawal is a clear minority view?
By contrast, thirteen percent of respondents felt the current number of troops was fine, while 22 percent said the number should be increased to between 146,000 and 200,000. And, sixteen percent said that there should be more than 200,000 troops in country.
As such, almost four times as many of our troops felt that current troop levels in Iraq and Kuwait were correct or should be increased versus those that wanted a complete withdrawal. In fact, almost three times as many troops supported a surge versus a withdrawal.
Sadly, CBS didn't choose to share such data with its viewers. Anybody want to guess why?
*****Update: There was more of this Military Times poll that Logan and CBS chose to ignore that I wanted to share. Another segment dealt with morale. Such might have been quite pertinent to the story "60 Minutes" aired, wouldn't you agree?
For instance, 83 percent of the troops said they were either completely or somewhat satisfied with their job. By contrast, only fifteen percent were somewhat or completely dissatisfied.
81 percent said they would recommend a military career to others, while only 14 percent said they wouldn't.
72 percent said they would support a son or daughter's decision to enter the military. Only 22 percent said they wouldn't.
66 percent said they would re-enlist, or, if an officer, extend their commitment. Only 21 percent said they wouldn't.
90 percent agreed or strongly agreed that they were well trained . Only nine percent disagreed or strongly disagreed.
Finally, this might be the most interesting finding:
48 percent agreed or strongly agreed that President Bush had their best interests at heart, compared to 40 percent who disagreed or strongly disagreed. By contrast, only 23 percent agreed or strongly agreed that Congress had their best interests at heart, compared to 69 percent who either disagreed or strongly disagreed.
Why do you think CBS and Logan withheld all of this from their viewers as they depicted a demoralized military seeking withdrawal from Iraq and with no confidence in the president?