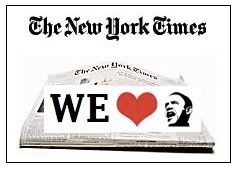 Bloggers and their readers have "joked" about the New York Times being the official house organ of the Obama White House. Maybe it's not a joke.
Earlier this month (as seen at NewsBusters; at BizzyBlog), several bloggers caught the Times making significant changes to its initial coverage of Chicago's humiliating loss of its bid to host the 2016 Summer Olympics, and of President Obama's involvement in that loss. The first Times report by Peter Baker was fairly harsh, questioning the President's judgment in getting involved, while citing his slipping poll ratings.
After Times organ grinder -- er, reporter -- Jeff Zeleny got a hold of the story, most of the harshness went away, as did Baker's original story. All of a sudden, at the same URL, there was no reference to tarnished presidential prestige. A dismissive assertion that the embarrassment "would fade in a news cycle or two" appeared. There was also a mention of Obama's 25-minute meeting with Afghanistan General Stanley McChrystal that was not in the original. The reference to falling poll numbers also disappeared.
Well, the Times has just pulled a similar stunt in its coverage of President Obama's Wednesday night/Thursday morning visit to Dover Air Force Base. Once again, Jeff Zeleny is involved.