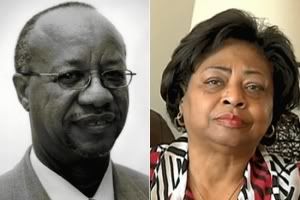 The Theater of the Sherrod(s) is apparently not over.
At AL.com last night, Mike Tomberlin of the Birmingham News reported the following:
Former USDA employee Shirley Sherrod says she will meet Tuesday with agriculture secretary

Shirley Sherrod, the former USDA rural development director for Georgia, said today she plans to meet Tuesday with U.S. Secretary of Agriculture Tom Vilsack to discuss a new job offer.

... Sherrod today spoke in the Sumter County town of Epes at an event hosted by the Southern Cooperatives/Land Assistance Fund. Ben Jealous, executive director of the NAACP, shared the stage with Sherrod during a panel discussion.

Sherrod said she had no ill feelings toward the NAACP or President Barack Obama.
It the meeting does indeed occur, it will be an interesting test of establishment media credibility, given the accusations leveled at Ms. Sherrod and her husband Charles by Ron Wilkins at the leftist publication Counterpunch several weeks ago. Here are some of the specifics:
The Other Side of Shirley Sherrod

... The swirling controversy over the racist dismissal of Shirley Sherrod from her USDA post has obscured her profoundly oppositional behavior toward black agricultural workers in the 1970s. What most of Mrs. Sherrod's supporters are not aware of is the elitist and anti-black-labor role that she and fellow managers of New Communities Inc. (NCI) played. These individuals under-paid, mistreated and fired black laborers–many of them less than 16 years of age–in the same fields of southwest Georgia where their ancestors suffered under chattel slavery.

... Mrs. Sherrod says she began to see poverty as more central than race. So, should indigent black child farm laborers warrant less reflection by Mrs. Sherrod? What lessons does she have to share from her tenure as management when she had power over her own people working under deplorable conditions at the same New Communities, Inc.(NCI) identified in the current issue? Shirley Sherrod could have included this chapter of her history in the same confession speech. Justice and integrity require at least as much accountability from Mrs. Sherrod to the poor black farm workers of NCI as to the white farmers she came to befriend. This lack of full disclosure of the whole truth is a "sin of omission" that trivializes the suffering of poor black farm workers and exacerbates the offenses of NCI.

Shirley Sherrod was New Communities Inc. store manager during the 1970s. As such, Mrs. Sherrod was a key member of the NCI administrative team, which exploited and abused the workforce in the field. The 6,000 acre New Communities Inc. in Lee County promoted itself during the latter part of the 1960s and throughout the 70s as a land trust committed to improving the lives of the rural black poor. Underneath this facade, the young and old worked long hours with few breaks, the pay averaged sixty-seven cents an hour, fieldwork behind equipment spraying pesticides was commonplace and workers expressing dissatisfaction were fired without recourse.

... Worker protest at New Communities eventually garnered some assistance from the United Farm Workers Union in nearby Florida in the person of one of its most formidable organizers, black State Director, the late Mack Lyons. The September 28, 1974 UFW newspaper El Malcriado, page two, reported on the worker's strike ("Children Farm Workers Strike Black Co-op") and the UFW stepped in to protect black farm workers from exploitation by NCI. Fearful of both UFW efforts to unionize NCI's labor force and scrutiny by the Georgia State Wage and Hour Division, the Sherrods and NCI management hastily issued checks in varying amounts to strikers to makeup ostensibly for minimum wage differentials. It is bitter irony that the Sherrods have succeeded in being awarded $300,000 following a discrimination lawsuit, while Mrs. Hawkins and other impoverished NCI black laborers whom NCI exploited were never adequately compensated for their "pain and suffering".
In addition to the "pain and suffering" payments Wilkins noted, NCI "won a thirteen million dollar settlement in the minority farmers law suit Pigford vs Vilsack." This occurred in late July of last year, just a few days before Sherrod was hired by Vilsack to be the USDA's Georgia Director for Rural Development.
A graphic of the full article to which Mr. Wilkins referred is here.
The two most damning paragraphs are these, which directly relate to Charles Sherrod:
Your eyes are not deceiving you. The UFW accused the Sherrods of using scab labor.
Wilkins wrapped up his Counterpunch column with a challenge:
Ask Shirley Sherrod about this part of her history. I know this story well, for I was one of those workers at NCI.
Will the establishment press follow up? Based on the non-coverage of Wilkins's accusations during past three weeks, the prognosis is: "Very doubtful."
A Google News search on "Ron Wilkins" (in quotes) returns all of 10 items, eight of which relate to the Cal State professor's accusations. Three of those eight cover two items authored by yours truly, including this August 8 NewsBusters post. Of the remaining five, three are posts at center-right blogs (NCPPR, American Thinker, Patriot Post). There is also an excerpt at the Daily Caller, plus an item at Digital Journal.
A search on "Ron Wilkins" (not in quotes) at the New York Times returns nothing relevant.
It's virtually inconceivable that such damaging baggage would be ignored if a conservative, Republican, or important businessperson had been similarly accused of worker exploitation.
The Associated Press has picked the Birmingham News item, which is on the wire service's raw national feed. There are now no valid excuses for ignoring what Wilkins has alleged.
Cross-posted at BizzyBlog.com.