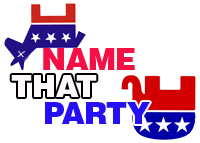 Just call it "journalism as usual."
One thing you can say about the Associated Press's and most of the rest of the establishment media's treatment of former Detroit Mayor Kwame Kilpatrick during the past two-plus years is that they've been almost totally consistent. They pretend not to know or care what political party Kilpatrick represented throughout his political career, and fail to acknowledge Barack Obama's fondness for him before his legal and criminal troubles began.
The latest episode in this bizarre soap opera/insult to the taxpaying public has Kilpatrick, who now lives with his wife in Dallas, accused of violating his probation by not remitting monies received that he had agreed to pay to the City of Detroit to help take care of an acknowledged $1 million debt to the city. The cliffhanger is: Will he or won't he be sent to jail again?
Today, the AP continued following its two-year pattern (see related March 2008 post at NewsBusters; at BizzyBlog), this time as written by reporters Ed White and Corey Williams, of avoiding any mention of Kilpatrick's status as a Democratic politician when he was mayor of Detroit. Here are several paragraphs from the pair's prose:
Judge says ex-Detroit mayor violated probation

Former Mayor Kwame Kilpatrick violated terms of his probation by failing to report assets and turn over tax refunds, a judge ruled Tuesday, strongly suggesting he may send him to jail when he's sentenced next month.

Wayne County Circuit Judge David Groner said Kilpatrick could remain free on bond pending his sentencing on May 25, and ordered state corrections officials to prepare a pre-sentence report by May 18.

Kilpatrick pleaded guilty to obstruction of justice in 2008 after sexually explicit text messages became public, showing he had lied under oath about an affair with a staff member in a whistle-blowers' lawsuit. The 39-year-old resigned, served 99 days in jail, agreed to give up his law license, repay the city $1 million, and stay out of politics for five years.

Prosecutors claim Kilpatrick hasn't paid enough toward the $1 million he owes Detroit. He has been making monthly payments of $3,000 while living in the Dallas area and working as a salesman for information-technology company Covisint. But prosecutors learned Kilpatrick and his wife have had other money, including $240,000 in loans, live in a rented mansion and drive fancy SUVs.

"I think these entire proceedings have made it clear the defendant has no desire to pay," Assistant Prosecutor Athina Siringas told Groner.

... In an interview, Siringas said there's "no question" she will argue for "significant time" in custody. Defense lawyer Michael Alan Schwartz said jail or prison would be extreme.

"What's important - punishing the guy or getting money for the city?" Schwartz told The Associated Press. "He's already lost his position as mayor. He's lost his license to practice law. ... Is additional punishment going to achieve any positive good? The answer is no."

In January, Groner said Kilpatrick had been untruthful about his finances and ordered $320,000 in accelerated payments, much of it due by Tuesday. His lawyers say he can't afford it on top of his regular monthly payments. Relatives and supporters paid $40,000 on his behalf in February.
So Detroit's ex-mayor supposedly deserves a stay-out-of-jail card because he's too valuable to be allowed to languish there, even though the remainder of his debt, assuming a current balance of $900,000 (which may be low), won't be paid for 25 years, and even though he by all accounts is living pretty large in Dallas. Who says crime doesn't pay? If this were a loan with a 5% interest rate instead of a $1 million apparently interest-free assessment, Kilpatrick's $3,000 monthly payments wouldn't even cover the interest.
As to Kilpatrick's previous association with Barack Obama, here is a transcript what the president had to say about him during the early stages of his presidential campaign (video is at link; transcript is below):
I want to, uh ... I want to first of all acknowledge your great mayor, uh Kwame Kilpatrick, who has been on the front lines (pause during applause) ... has been on the front lines, uh, doing an outstanding job of, uh, gathering together, uh, the leadership at every level in Detroit to bring about the kind of renaissance that all of us anticipate, uh, for this great city.

And, uh, he is a leader not just here in Detroit, not just in Michigan, but all across the country people look to him. Uh, we know that he is going to be doing astounding things, uh, for many years to come.

And I-I'm grateful to call him a friend and a colleague. And I'm looking forward to, uh, a lengthy collaboration in terms of making sure that Detroit does well in the future.
Well, at least former fan Obama was right about Kilpatrick "doing astounding things."
Cross-posted at BizzyBlog.com.