The Washington Post can pretty good at forgetting scandals, especially when it comes to Michelle Obama. The front of Wednesday's Style section has a story on Michelle Obama's "fluid staff" turnover: three chiefs of staff, two communications directors, and (soon to be) three social secretaries. But the headline isn't about how the FLOTUS can't be satisfied and keeps firing aides. It's headlined "Legacy in the making: Despite the changing look of her East Wing circle, Michelle Obama keeps her eye on the progress to come." If that doesn't sound penned by the White House, wait -- it gets better.
Reporter Nia-Malika Henderson becomes Nia-Malika Amnesia in this amazing passage of willful memory loss on Michelle: "She has told her staff then that there was little room for mistakes. Two years later, observers are hard-pressed to find any major flubs, and the first lady has staffed up for Michelle Obama 2.0."
Did the obsequious Post forget the Salahis' major security breach at a White House state dinner? That was only a major Post (and TV network) obsession. It caused the departure of social secretary Desiree Rogers. Some lefties wanted "public executions."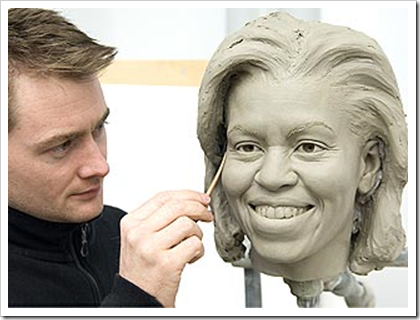 Henderson makes excuses for Michelle. She's not impossible to please, the job is just too punishing to remain long: "But the personnel moves reflect a first lady grappling with inevitable departures from jobs that require long hours and political steel. The moves also reveal a first lady who is upgrading and tweaking her role, and making moot that perennial question - is she more like Hillary or Laura?"
Translation: Don't blame Michelle for the turnover. She's too busy making history. The Post seems like their sculpting a bust, not covering a human being.
There are only hints at her toughness: "As for her new top staffers, who are getting used to Obama's early morning e-mails and her lawyerly ways in staff meetings, the first lady said that 'each transition has brought something new to the table in a good way.'"
Critics? There is "rare criticism," but Sarah Palin's nanny-state digs are dismissed out of hand:
"I don't think about her in this initiative," Obama said, brushing off Palin's criticism and focusing instead on GOP supporters of her initiative. "Mike Huckabee took the lead on this issue when he was the governor of Arkansas. I mean, he had one of the most forward-thinking programs out of any state on obesity because he lived it."
There's also this hint of Michelle being difficult:
Where Rahm Emanuel seemed to tiptoe around the first lady, one of the first calls Daley made after accepting the job was directly to her, aides said. (By the way, Obama is still a Chicago voter and wouldn't say whether she planned to vote for her husband's former chief of staff in the city's mayoral race.)
But Henderson, who clearly has the problem of experiencing a leg-thrill daily in Michelle's presence, can't help but throw rose petals in Michelle's path. Just take this in:
Last month, the first lady marked the two-year anniversary of her husband's inauguration by greeting unsuspecting visitors at the White House. It was one part gag, one part ceremonial greeting, the type of Vanna White-style role-playing that every first lady must grin through.
Yet, the guests' reactions suggested that the cultural space Obama occupies is wide indeed.
One man asked her for directions to Ben's Chili Bowl, as if she were just a local, while two black women wept at the very sight of her.
One of them might have been Henderson. But she doesn't cry and tell.