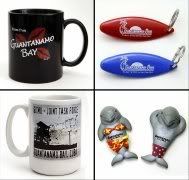 Oh the outrage! The gift shop at Guantamo Bay sells a T-shirt that features a guard tower and barbed wire with wording that says: "The Taliban Towers at Guantanamo Bay, the Caribbean's Newest 5-star Resort." Another T-shirt from the same gift shop dares to praise, "the proud protectors of freedom". And yet another T-shirt shows an iguana with this "heartless" wording: "Greetings from paradise GTMO resort and spa fun in the Cuban sun." Does this even sound remotely like some cruel human rights abuse? Perhaps not to rational people but Daily Mail (UK) reporter, Angela Levin, works herself into a frenzy over these trinkets in her article, Greetings from Guantanamo Bay ... and the sickest souvenir shop in the world:
The sands are white, the sea laps gently and crowds of bronzed Americans laze in the Caribbean sunshine.

They have a cinema, a golf course and, naturally, a gift shop stocked with mugs, jaunty T-shirts and racks of postcards showing perfect sunsets and bright green iguanas.

Only the barbed wire decoration, a recurring motif, hints at anything wrong.

Welcome to "Taliban Towers" at Guantanamo Bay, the most ghoulishly distasteful tourist destination on the planet.

As these astonishing mementoes show, the US authorities are promoting the world's most notorious prison camp as a cheap hideaway for American sunseekers – a revelation that has drawn international anger and condemnation.

Just yards from the shelves of specially branded mugs and cuddly toys, nearly 300 "enemy combatants" lie sweltering in a waking nightmare.
Yes, Angela, be sure to put "enemy combatants" in quotes so as to indicate some sort of unfair characterization of them by the EVIL American military. While Ms Levin's sympathies obviously lie with the "enemy combatants," she oozes with disdain for the American military who "cruelly" incarcerate these terrorists:
While the detainees lie incarcerated, visitors can windsurf, take boat trips and go fishing for grouper, tuna, red snapper and swordfish.

The United States' 1.5million service personnel and Guantanamo's 3,000 construction workers are eligible to visit the "resort", which boasts a McDonald's, KFC and a bowling alley.

They even have a Wal-Mart supermarket.

The vacation comes at a knock-down price: just $42 (£20) per night for a suite of air-conditioned rooms, including a kitchen, bathroom, living room and bedrooms.
Reporter Levin lets us know that the Gitmo gift shop trinket "scandal" was exposed by a human rights lawyer who apparently was trolling for any evidence of abuse, even gift shop "abuse":
The Guantanamo holiday trade was exposed by Zachary Katznelson, a British-based human rights lawyer and spokesman for Reprieve, the group leading the international campaign against the camp.

"When I see the conditions the prisoners have to cope with and then think of the T-shirt slogans, I am appalled," he said. "To say I am repulsed is an understatement. Unbelievable as it may seem, the US authorities are proud of the 'souvenirs' and what they are doing."

Mr Katznelson represents 28 of the detainees and makes regular visits to the prison.

"The military keeps a tight hold on everything that is available in Guantanamo Bay and someone senior has given their approval for this disgusting nonsense," he said.

"Pretending that Guantanamo Bay is essentially a resort in the Caribbean is grossly offensive and the idea of relaxing in the sun while close by many individuals are robbed of their rights, tortured and abused is both repugnant and ridiculous."

His anger is shared by other human rights campaigners. Shami Chakrabarti, director of Liberty, said Guantanamo represents a shameful chapter in American history.

Amnesty International said: "These supposedly 'fun' souvenirs are in grotesquely bad taste and the fact that they are on sale at the camp quite frankly beggars belief."
Some of the "tortures" of the Guantanamo prisoners are listed:
The tortures that the Americans use are wide-ranging and inhuman. One is to blast the cell with freezing cold air.
Um, yes, I believe that "inhuman" torture is known as air conditioning. Oh, and there is also starvation of the prisoners. Not by the military. It is self-starvation by the prisoners:
Katznelson continued: "Inmates are offered three meals a day, but there are eight prisoners who have been on hunger strike for over a year asking either for a trial or to be set free.

"These men are force-fed twice a day. First they are strapped down with 16 different restrictions, including one that jerks their head back. Then a tube is fed through their nose and down into their stomach.
Providing air conditioning in the tropical heat and forcing the prisoners to eat. What could be more cruel? Oh yes, selling Gitmo gift shop trinkets. And now the burning question in the minds of shocked onlookers is where they can order those "inhuman" trinkets including the ones featured in the photo above in the Daily Mail with the caption, "Sick: Souvenirs include mugs inscribed with 'Kisses from Guantanamo Bay'."
Updated by Noel Sheppard at 08:53: Maybe because she's British Levin didn't include any outrage about Rush Limbaugh's "Club G'itmo". Hehehehehe.
UPDATE: I just talked to a Wal-Mart representative and there is NO Wal-Mart at Guantanamo Bay as claimed by Ms Levin.