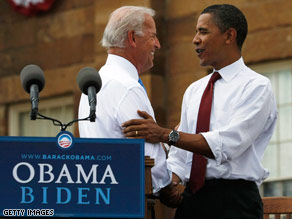 CNN has just released what it claims to be the "first national poll conducted after Barack Obama publicly named Joe Biden as his running mate," and the news isn't good for those heading to Denver to watch what likely will be the official nomination of the junior senator from Illinois.
In fact, according to this poll conducted Saturday and Sunday after Obama's announcement, the race is now all tied up.
As reported at CNN.com moments ago, "This looks like a step backward for Obama, who had a 51 to 44 percent advantage last month" (emphasis added throughout, photo courtesy Getty Images):
In a new CNN/Opinion Research Corp. poll released Sunday night, 47 percent of those questioned are backing Obama, the presumptive Democratic presidential nominees, with an equal amount supporting his Republican opponent, McCain.

"This looks like a step backward for Obama, who had a 51 to 44 percent advantage last month," said CNN Polling Director Keating Holland. "Even last week, just before his choice of Joe Biden as his running mate became known, most polls tended to show Obama with a single-digit advantage over McCain."
This decline might be the result of lingering disappointment from Hillary Clinton backers:
Sixty-six percent of Clinton supporters -- registered Democrats who want Clinton as the nominee -- are now backing Obama. That's down from 75 percent in the end of June. Twenty-seven percent of them now say they'll support McCain, up from 16 percent in late June.

"The number of Clinton Democrats who say they would vote for McCain has gone up 11 points since June, enough to account for most, although not all, of the support McCain has gained in that time," Holland said.
Wow. Makes one wonder how much coverage this will get away from CNN.
Stay tuned.
Noel Sheppard
Noel Sheppard, Associate Editor of NewsBusters, passed away in March of 2014.