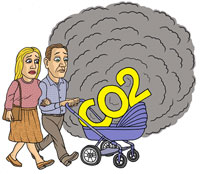 As media induced warm-mongering heats up across the globe, Europe is about to take climate change hysteria to a new level by requiring cigarette-style health warnings about carbon dioxide emissions in advertisements for new cars.
I kid you not.
As reported by The Times Saturday (h/t Marc Morano, emphasis added):
All advertising for new cars will have to carry cigarette-style "health warnings" about their environmental impact, under a European plan to force manufacturers to reduce carbon dioxide emissions.

Companies that produce the most polluting cars will also have to pay penalties of up to £5,000 per vehicle, with the proceeds used to reduce the cost of the most efficient cars.Advertisements in newspapers and magazines, will have to devote at least 20 per cent of the space to details about fuel economy and CO2 emissions. At the moment manufacturers have to include only basic mpg and CO2 figures in the small print. They do not have to explain what the numbers mean or provide any comparison.

Car advertisements will have to carry colour-coded emissions labels such as those already displayed on new fridges and washing machines, with bands ranging from dark green to red. The plan, expected to be approved by the European Parliament on Wednesday, has been drawn up in response to the car industry's failure to meet its own voluntary target on reducing CO2 emissions.
Extraordinary. Of course, in the midst of all this desire to eliminate carbon dioxide, has anyone pondered how plants are going to grow if we really are successful in reducing the presence of this essential gas?
Anyone?
Noel Sheppard
Noel Sheppard, Associate Editor of NewsBusters, passed away in March of 2014.