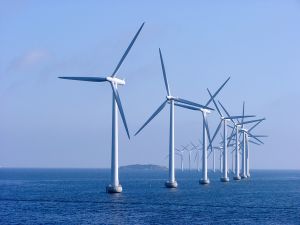 As Congress debates ways to combat climate change, a leaked internal briefing to officials in Great Britain (PDF available here) showed members of that government backtracking on renewable energy targets set forth by the European Union and agreed upon by former Prime Minister Tony Blair.
As reported by England's Guardian Monday (emphasis added throughout, h/t Benny Peiser):
In contrast to the government's claims to be leading the world on climate change, officials within the former Department of Trade and Industry have admitted that under current policies Britain would miss the EU's 2020 target of 20% energy from renewables by a long way. And their suggestion that "statistical interpretations of the target" be used rather than new ways to reach it has infuriated environmentalists.
"Statistical interpretations" is a clever way of saying "cooking the books":
An internal briefing paper for ministers, a copy of which has been obtained by the Guardian, reveals that officials at the department, now the Department for Business, Enterprise and Regulatory Reform, think the best the UK could hope for is 9% of energy from renewable sources such as wind, solar or hydro by 2020.

It says the UK "has achieved little so far on renewables" and that getting to 9%, from the current level of about 2%, would be "challenging". The paper was produced in the early summer, around the time the government published its energy white paper.
[...]

The paper suggests a number of ways ministers could wriggle out of specific commitments. It also suggests ministers lobby certain EU commissioners and countries such as France, Germany, Poland and Italy to agree to a more flexible interpretation of the target, by including nuclear power, for example, or investment in solar farms in Africa.
As such revelations were occurring across the Pond, the Associated Press reported Monday the just released study from the Electric Power Research Institute about the potential costs to our economy of cutting CO2 emissions (emphasis added):
Making big cuts in emissions linked to global warming could come at considerable cost to the U.S. economy: between $400 billion and $1.8 trillion in reduced growth over the next four decades, a new study says.

The study published Monday by a nonprofit research group partially funded by the power industry concludes that reducing emissions of carbon dioxide -- the main greenhouse gas linked to global warming -- will require "fundamental" changes in energy production and consumption.
Given the potential costs, and the likelihood that overly aggressive targets - be they regarding emissions or renewable energy - might make for good press when agreed upon, but be virtually impossible to achieve, doesn't it make sense to definitively determine that anthropogenic global warming is real, and actually poses a danger to the planet?
Or, is that too much to ask of folks whose real goal is to control behavior while they redistribute the wealth all the time by their very actions demonstrating that they couldn't care less about the environment they pretend to be protecting?